Richard III boar badge appeal at Yorkshire Museum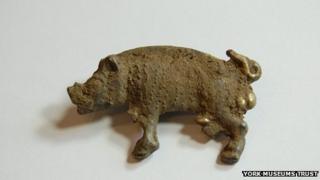 The Yorkshire Museum has started an appeal to purchase a rare 15th Century badge from the reign of Richard III.
The silver gilt badge, which measures 1.4 by 1.1in (3.6 by 2.9cm), was found by a metal detecting enthusiast at Stillingfleet, near York, in 2010.
Thousands of the boar-shaped badges were made for the King's supporters in 1483 but few have been found.
The museum in York has until September to raise £2,000 to purchase the badge or it will be sold privately.
The white boar was a symbol adopted by Richard before the deposition of his nephew, one of the Princes in the Tower, and his own accession to the throne in 1483.
'Rare find'
Richard had spent much of his youth in Yorkshire. He remained popular in the region despite being accused of arranging the murder of his nephews.
He was defeated and killed by Henry VII at the battle of Bosworth in 1485.
Richard had ordered 13,000 of the badges made for the investiture of his son as Prince of Wales at York Minster in 1483.
Most badges would have been made of cloth and copper with precious metal badges given only to people of high social status.
Natalie McCaul, assistant curator of archaeology at the museum, said: "This is an exciting and rare find and because of its connection to Richard III it makes it something very important to Yorkshire.
"By keeping it in the museum's collection we also hope we can find out more about it and perhaps discover more clues to who the owner was."