Great Yorkshire Show cancellation 'will cost thousands'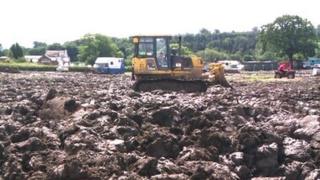 Cancelling the Great Yorkshire Show could cost hundreds of thousands of pounds, organisers have said.
The annual show was cancelled after the first day because of adverse weather.
Nigel Pulling of the Yorkshire Agricultural Society (YAS) said totting up the cost of cancellation had not begun, but it would "definitely run into hundreds of thousands of pounds".
"We threw everything at it but [the weather] meant we just couldn't do it," Mr Pulling said.
Bill Cowling, director of the show, said it was the first time in 154 years it had been cancelled due to weather.
YAS said the decision to cancel after the first day was "heartbreaking".
Organisers said advance ticket holders would be refunded, or could keep their tickets for next year's show.
Conditions 'dreadful'
Entry fees for livestock exhibitors and events will also be refunded and YAS said it would be in touch with trade stand holders and sponsors.
Exhibitor Drew Lambert said: "In lost money we're looking at about £15,000. In money we've already spent out about £4,000; so in all, [we could lose] just shy of about £20,000."
Sandra Doherty, President of Harrogate Chamber of Commerce and Trade, said the cancellation would be "devastating" for the town.
She said: "The biggest losers will be the restaurateurs and the taxis. Some hotels will have lost a fortune.
"It's been such a wet summer, we just can't afford to lose a whole night's takings."
Steve Richardson, a sheep farmer from Great Houghton in South Yorkshire, said the conditions were "dreadful" but the decision to cancel after the first day was a "poor half-way house".
"It should have either been cancelled last Friday before everybody got their stalls set up and went to the expense of transporting everything there, or they should have run with it," Mr Richardson said.
Mr Pulling said it would have been a mistake to cancel before the show started and that some judging was still taking place without an audience.
In 2011, more than 135,000 visitors attended the three-day show.