Keir Starmer QC invites Drax power station protesters to appeal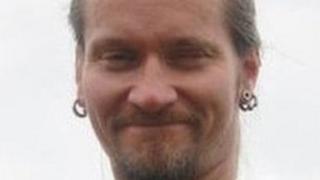 Twenty-nine people convicted after a power station protest where undercover police officer Mark Kennedy was working have been invited to appeal.
Director of Public Prosecutions Keir Starmer QC said he had concerns about the safety of the convictions following the Drax power station protest in 2008.
He said the convictions should be considered by the Court of Appeal.
Mr Starmer has also asked the Met to examine records of operations involving Mr Kennedy that led to convictions.
Malcolm Carroll, 56, a Greenpeace activist who now lives in Wales received a community order to carry out 60 hours unpaid work for his part in the protest.
He said: "There is the civil liberties issue and we are very glad this [conviction] has been addressed.
"We will sit down and talk about whether to go down that road."
Mr Kennedy spent seven years undercover, infiltrating left-wing protest groups and travelling to 11 different countries on 40 occasions.
Undercover tactics
Mr Kennedy's offer to help the defence led to the collapse last year of the case against six protesters accused of planning to invade the coal-fired Ratcliffe-on-Soar power station in Nottinghamshire and led to a review of police undercover tactics.
The cases against the 29 protesters who ambushed a freight train carrying coal to the Drax power station used undisclosed information gathered by Mr Kennedy
Mr Starmer said he was inviting those convicted after the Drax protest to appeal after a review of the case by a senior CPS lawyer and after taking advice on the safety of the convictions from a senior QC.
He said: "Having considered the conclusion of that review carefully, I have decided that the safety of the convictions should be considered by the Court of Appeal.
"That is because it appears to me that a senior CPS lawyer, who has since left the organisation, may not have complied fully with disclosure obligations in this case."
In a statement, the Metropolitan Police said its own examination of cases involving Kennedy was at an advanced stage.
"The MPS has been carrying out an examination of records relating to the deployment of Mark Kennedy as an undercover officer," the statement read.
"This work is at an advanced stage and we are satisfied that in all cases examined to date - including this case - police disclosure obligations to CPS prosecutors were met and they were made fully aware of Kennedy's role and actions as known at the time."