Drax Power station in North Yorkshire completes upgrade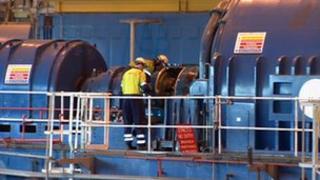 A £100m project to cut emissions from a major coal-fired power station in North Yorkshire has been completed.
Drax Group, which runs the Drax power station near Selby, began modernising its steam turbines in 2007.
It hopes to reduce the amount of carbon dioxide it produces by a million tonnes a year, equivalent to taking 275,000 cars off the road, the company said.
Friends of the Earth welcomed the changes but said it was "a long, long way short of what needs to happen".
Efficiency of the station had been improved by 40%, Drax said. It also said fuel consumption would be reduced.
'Most polluted'
Last year the power station burned 9.1m tonnes of coal. In 2006, before the turbine upgrade, it consumed 10.2m tonnes.
Peter Emery, production director at Drax, said: "Each of the operating units at Drax has got five turbines on a single shaft that drives the generator. We have upgraded four of those five turbines to the latest designs and that improves the efficiency of the generator by a significant proportion.
"We're saving 5% of the coal we burn, that's 10,000 tonnes a week of coal we're saving and that reduces our costs. If our costs are down, then the consumer benefits because we can produce cheaper power."
Simon Bowens, from the Yorkshire and Humber Friends of The Earth, said: "Any improvements in the efficiency at Drax is welcomed, being that Drax is one of the most polluted power stations in Europe, but it's a long, long way short of what needs to happen.
"What we need to see is a real shift away from burning coal. We want to see a greater investment in renewable energy."