Fire-damaged Harrogate Valley Gardens play area is reopened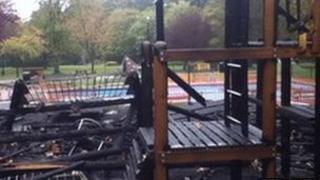 A children's play area in North Yorkshire which was badly damaged in an arson attack last year has reopened.
A wooden fortress, which cost £32,000 to install at Harrogate's Valley Gardens in 2009, was destroyed in the fire on 8 October.
Harrogate Borough Council said it was grateful to local residents who donated £2,000 towards rebuilding the fortress.
Two 17-year-olds and a 16-year-old have been charged with arson.
Kian Clegg, a six-year-old primary school pupil from Knaresborough, cut the ribbon on the new play fortress as part of the opening ceremony earlier.
He raised £30 towards the replacement fortress by baking and selling cakes, Harrogate Borough Council said.