Diane Hill seriously burned pouring petrol in kitchen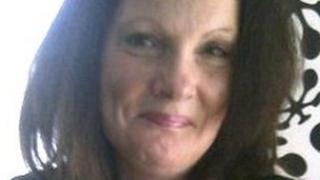 A woman was badly burned when petrol ignited in the kitchen of her York home as she was pouring it into a jug.
Diane Hill, 46, suffered 40% burns in the accident at her home in Moorgate, Acomb, on Thursday evening. The cooker, on at the time, ignited the fuel.
She was "critical but stable" at Pinderfields Hospital in Wakefield.
A fire service spokesman said: "Her daughter asked her mum for petrol because she had run out. The cooker was on and the fumes ignited."
The accident came two days after government minister Francis Maude suggested that motorists take the "sensible precaution" of filling up jerry cans and keeping them in the garage.
It has prompted the Fire Brigades Union (FBU) to ask the government to make an urgent public safety announcement highlighting the dangers of petrol in the home.
FBU general secretary Matt Wrack said: "The public do not understand the extreme dangers posed by petrol handling or storage and they must be advised as a matter of urgency.
"Government needs to issue urgent professionally-based advice to warn the public before we have another incident, perhaps with far worse consequences."
Prime Minister David Cameron said: "Well this is obviously a desperate incident and a terrible thing that has happened to this woman and my heart goes out to her and her family."
Fire station manager Lee Smith, whose Acomb crew attended the fire shortly after 18:00 BST on Thursday, said: "The people were cooking their tea and dispensing petrol from a container to a glass jug.
"The vapour then ignited, the jug was then spilt which obviously ignited as well and the person involved in the decanting was consumed by the flames.
"Her daughter phoned 999 and was obviously extremely distressed."
Ms Hill, who suffered 40% burns to her whole body, was treated by ambulance personnel in her kitchen before being taken to Pinderfields.
Two firefighters wearing breathing apparatus extinguished the fire in the kitchen and removed the remaining petrol.
A North Yorkshire Fire Service spokesman said: "Members of the public should take extreme care when handling and storing petrol and be aware of the risks associated with incorrect use and storage of fuel.
"Never bring petrol inside your home. If you do smell petrol fumes in a garage or outbuilding, ventilate the area and make sure nobody smokes or turns electrical switches on or off.
"The slightest spark could cause an explosion."
It is not known if the 46-year-old had been storing petrol in advance of the threat of industrial action by tanker drivers .
Mr Maude advised motorists to fill up jerry cans in case of a strike.
This was subsequently clarified by Transport Minister Mike Penning, who said jerry cans could store 20 litres, more than the amount advised for safe home storage.
John Mann, Labour MP for Bassetlaw, said Mr Maude should do the "decent thing" and resign over his comments.
But Conservative Party Chairman Baroness Warsi rejected the call, telling BBC Newsnight: "I think what's deeply irresponsible and, frankly, sickening, is that the Labour Party want to make political points out of this personal tragedy for this lady."