London 2012: North Yorkshire torch relay route revealed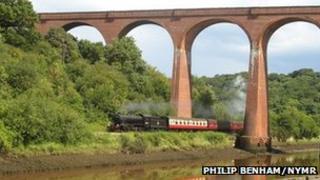 Olympic torch relay organisers have revealed the route the torch will be carried in North Yorkshire.
The Olympic flame will be in the county on 18, 19, 20 and 24 June.
The relay will travel on the North Yorkshire Moors Railway and visit landmarks including York Minster, Aysgarth Falls and Richmond Castle.
A retired gymnast from York who has represented Great Britain 38 times is among people chosen to carry the Olympic torch.
Stan Wild, 68, who competed in two Olympic Games, was nominated for "selfless dedication" to York City Gymnastics Club, which he founded in 1974.
The club, which has charitable status, has 1,800 child members.
Mr Wild said he felt "honoured and very proud" to have been chosen.
The Olympic flame will arrive in North Yorkshire on 18 June, travelling on the North York Moors Railway from Whitby to Pickering before moving on to Scarborough and Filey.
The next day it will visit places including Selby and Tadcaster and will stay overnight in York.
On 20 June it will leave York and travel on the Scots Guardsman to Thirsk before moving on to Cumbria.
On 24 June it will make an appearance in Skipton.
Councillor Derek Bastiman, from Scarborough Borough Council, urged local people to get involved.
He said: "We encourage people of all ages to line the streets on 18 June so that they can witness the full spectacle of the Olympic torch relay.
"We are also looking forward, with great pride, to welcoming the inspirational torchbearers to our communities and celebrating their many achievements and aspirations."
Meanwhile, an "inspiring and enthusiastic" Ripon teacher will be carrying the torch in Harrogate.
Helen Mackenzie, who was diagnosed with breast cancer in August 2009, was selected in recognition of her achievements in promoting sport to pupils at Ripon Grammar School.
Her nomination said: "Through her love of sport she engages with children and young people to enable them to reach their true potential."
The Olympic flame arrives in the UK on 18 May and begins its 70-day journey at Land's End on the morning of 19 May.
During the 10-week relay the torch will be carried by 8,000 torchbearers and will travel about 8,000 miles.
Locog say the torch will come within 10 miles of 95% of the population.