Terry's chocolate factory in York starts to be demolished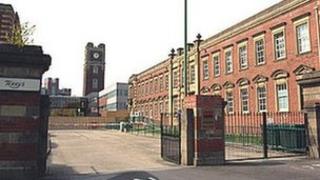 Demolition work has started on the Terry's chocolate factory in York.
A developer plans to build homes, hotels, shops, a bar and restaurant, a medical centre and nursery at the Bishopthorpe Road site.
The purpose-built factory opened in 1926 and produced the company's famous All Gold and Chocolate Orange brands.
Terry's was taken over in 1993 by Kraft, which closed the factory in 2005 and moved production to other plants in Europe.
Its closure brought to an end more than a century of chocolate making in York by Terry's, which started manufacturing in the city in 1886.
Art Deco tower
The redevelopment scheme was finally approved by the council in 2010 after initial plans were rejected.
Developer Grantside said staff were clearing asbestos from the site before securing the listed buildings and demolishing the other parts of the factory.
The Grade II listed Time Office, which incorporates an Art Deco clock tower, has already been converted into office space.
David Meek, who began working at the factory in 1956, said he was sad to see Terry's close but was glad redevelopment had finally begun.
"I am happy to see it has a new lease of life," he said
"It got very, very tatty. It would be a shame if it had gone any worse."