Postnatal mental health unit at Bootham Park Hospital in York to remain closed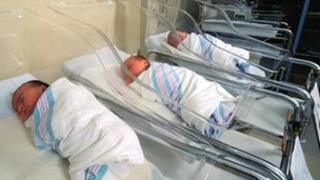 A North Yorkshire mental health hospital will not reopen its mother and baby facility, a health trust has said.
The perinatal unit at Bootham Park Hospital in York will remain closed after shutting temporarily in 2010.
The trust said the two-bed area in York was not an accredited unit and instead services would be increased in Leeds.
A North Yorkshire woman diagnosed with psychosis after giving birth said being sent to Northumberland for treatment was "devastating".
Rachel from Thirsk, whose name has been changed, was diagnosed with postpartum psychosis after her daughter was born by emergency Caesarean at York Hospital in January.
Psychosis is the most severe type of postnatal mental illness, affecting about 1,000 mothers in the UK each year.
Only seven NHS trusts in England have a perinatal inpatient service to treat mothers with mental health problems after birth.
The unit in Leeds has been at full capacity for two years, according to Leeds and York Partnership NHS Foundation Trust which took over the running of the mental health centre at Bootham Park Hospital from North Yorkshire and York Primary Care Trust in February.
When Rachel was diagnosed with psychosis, all five beds in Leeds were full.
'Very upsetting'
Her daughter stayed in York Hospital while Rachel was taken to Bootham Park.
They were both then transferred to the specialist unit in Morpeth, Northumberland.
Rachel's partner had to make a five-hour round trip from Thirsk several times a week to visit them.
The family are now at home but visit the Morpeth unit at weekends.
Rachel said the stress of the situation had made her more ill.
"Nobody was telling me anything - it was all quite distressing, being away from friends and family.
"They definitely need to give more support for mental health issues associated with pregnancy.
"Having just recovered from the physical aspects of an emergency Caesarean, along with the mental aspects it's been very upsetting.
"It's going to be quite a while before I get back on track."