Man clamped in Skipton 'while tuning radio'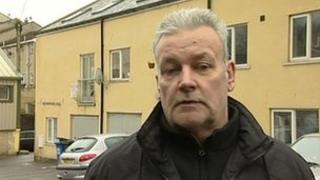 A couple have had to pay £150 after their car was clamped in a car park while the driver was waiting in the vehicle with the engine running.
Brian and Naomi Reid from the Yorkshire Dales hamlet of Starbotton drove their car to a private car park in Skipton.
Mr Reid said he was retuning the car radio with the engine running when a Land Rover pulled in front of him and he was clamped in Birtwhistle's Yard.
Clamper Gareth Evans said he was acting within the law.
Mr Reid said he was surprised at the turn of events in the car park.
Police called
He said: "He (Mr Evans) jumped into the back of the Land Rover and got something out.
"I didn't know what he was doing and the next thing was I saw him fly under the car.
"I got out and he was putting a clamp on the wheel."
Mr Reid said he called the police and two community support officers arrived and spoke to Mr Evans who refused to remove the clamp.
Mr Evans' firm Carstoppers has also been responsible for clamping vehicles at a visitors' car park in the Bronte town of Haworth.
He told BBC News that he had acted within the law at all times.
He said he could prove his actions were legal because he was wearing a concealed video camera.
Mr Evans said the Data Protection Act prevented him from showing the footage to a third party, but he had it "should the case come to court."