York Community Stadium 'would benefit the city'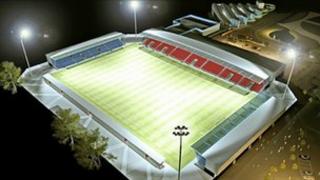 A £20m stadium planned for York could have "far-reaching" benefits, a report has found.
The Community Stadium at Monks Cross would be home to York City FC and York City Knights Rugby League Club, and include a health centre and library.
The York Council commissioned report will be reviewed by the Labour-led local authority next week.
But Tory councillors questioned the finances saying it still could be a "white elephant".
The ground, which is also part of a new shopping development, would be a "community hub" said the report, and would have "social and economic benefits" for the city.
'Financial concerns'
Councillors are being asked to approve a business plan which would unlock £4m of council funding if planning permission is granted.
Councillor Sonja Crisp said: "I'm delighted that we have strong support from all our professional clubs and within the community, and that we have a solid business plan to bring this project to fruition, which is clearly evidence-based."
But Councillor Ian Gillies, leader of York Council's Conservative group, said the latest report "asks more questions than it answers".
"Until we satisfy ourselves about the financial concerns, that it won't be a white elephant and that it's affordable, then we're not at the end of the road yet," he added.
If approved, the report will be included as part of the planning permission application for the stadium.