Drax scraps plans for North Yorkshire biomass plant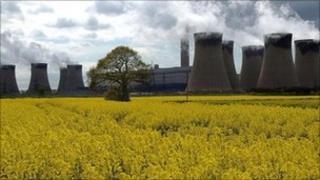 Power producer Drax has scrapped plans to build a dedicated biomass plant on its site in North Yorkshire.
However, it said it was ready to invest in biomass-fuelled power generation if government subsidies were increased.
The company said the level of "regulatory support" for using only biomass was still too low.
High costs of transporting fuel to its inland site had also contributed to the decision to abandon the Drax biomass project, it said.
Drax had planned to build a 290-megawatt (MW) dedicated biomass plant in cooperation with Siemens Project Ventures on its Selby site, where it owns one of Britain's largest coal-fired power plants.
The power producer said it was still considering options for two other planned biomass plants at South Killingholme in North Lincolnshire and another unspecified site.
'Highly challenging'
Chief executive Dorothy Thompson said: "Drax is ready to transform itself into a predominantly renewable generator, but to do so we need appropriate regulatory support, and to that end we look forward to the timely conclusion of the government's current review."
In October last year, the government proposed to increase state support for mixing biomass with coal, known as co-firing, but said it would reduce subsidies for standalone biomass plants by 7%, from April 2016.
While the final outcome of the so-called Renewables Obligation Consultation is expected in the spring, Drax said a reduction in state support for dedicated biomass made its investment case "highly challenging".
The company said although its existing biomass infrastructure was operating below capacity levels, it was "confident of its technical capability to become predominantly biomass fuelled".
Ms Thompson said Drax could spend as much as £700m on biomass, subject to appropriate regulatory support.
The company plans to invest £50m this year to produce 20% of its power from co-firing biomass, up from 12.5%.