Grassington Players to perform Calendar Girls amateur world premiere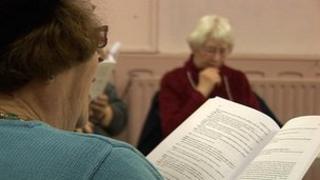 A North Yorkshire dramatic society will host the world premiere of an amateur performance of the Calendar Girls.
On 31 August the Grassington Players will present their version of the story that started a host of nude calendars.
The group has been given permission to perform a day before the amateur rights for the play are made available.
Beryl Balmforth, original Calendar Girl and Grassington Player, said: "It'll be brilliant."
Mrs Balmforth will not appear in the forthcoming production, but she added that as a story beginning in the the Yorkshire Dales "it should start its amateur life up here".
Auditions have begun and the play's director, Edwin Williams, said "people are buzzing" for tickets even though it was six months away.
Inspired a film
He said the cast were already having a few sleepless nights because "it's a big thing".
John Baker whose death in 1998 after being diagnosed with Non-Hodgkin's Lymphoma inspired the original calendar was also a member of the Grassington Players.
The Rylstone and District Women's Institute calendar had an initial print run of 3,000 copies in 1999.
It inspired a film, starring Helen Mirren and Julie Walters, and a play and the idea has raised about £3m for Leukaemia research.
The amateur rights to the play are being released for just 12 months from 1 September.
About 250 amateur dramatic groups have bought the performance rights.