William Hague concern at plan to close children's units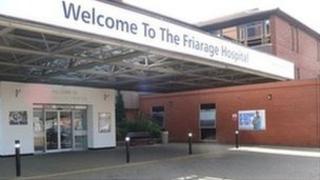 William Hague has joined calls for a rethink over plans to move paediatric and reduce maternity services at The Friarage Hospital, Northallerton.
The Conservative MP for Richmond met with council leaders to discuss proposals to move services to Middlesbrough.
A report by the National Clinical Advisory Team (NCAT) said the unit was not sustainable.
Mr Hague said he was "worried about the proposals."
Full range
The NCAT report said the hospital provided a first-class service but in relation to paediatric services it expressed concerns about the hospital being able to maintain a workforce with the right skills.
It also said if children needed inpatient care, they should be cared for in a unit which has a full range of services backed up by high dependency and intensive care facilities.
It suggested moving paediatric care to the James Cook University Hospital, 22 miles (35km) away, in Middlesbrough.
A scaling-back of maternity services was also included in the recommendations.
Speaking after the meeting with councillors, Mr Hague said: "I think we are all completely united about it in our concern.
Visit the hospital
"Particularly, about the about the distances, the huge distances that would be involved for people in the Dales, in particular, if they had to travel all the way over to the James Cook Hospital for consultant led maternity services."
Mr Hague said he intended to visit the hospital to talk to medical staff about the proposals.
The NCAT report will be considered by the South Tees Hospitals NHS Foundation Trust, which runs both the Friarage and James Cook hospitals.
A three-month public consultation about any proposed service changes will begin in March.