Scarborough Borough Council drops recommendations to axe mayoral car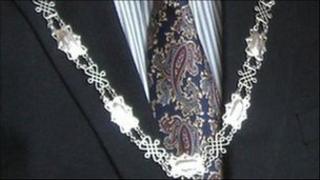 Plans to force future mayors of Scarborough to drive themselves or take taxis to events have been dropped.
A council committee has decided to ignore the recommendations of a task group not to renew the civic car and chauffeur.
The proposal would have saved the authority around £20,000 a year, but councillors considered it would devalue the role of the mayor.
Councillors still plan to reduce the cost of annual mayor-making ceremonies.
A Mayoralty Task Group has been investigating the role and cost of the mayor with a view to finding savings in the civic budget which is currently £88,586.
The final report, by the chair of the task group, Councillor Dilys Cluer, said: "The council will be able to make some savings without causing any significant adverse impact on the Mayoralty."
'Right manner'
It proposed the contract for the civic car, currently a silver Mercedes, and chauffeur should not be renegotiated when it expires in May 2012.
Councillor Cluer said: "The Mayor would be required to drive themselves to functions where this proved to be both practicable and reasonable and a taxi service/hired service is used for other functions where necessary."
Councillor John Blackburn, the current mayor, told the task group the mayor should arrive at events in the "right manner".
He added: "Some of the best places I have been received are where there is least money - they don't resent the Mayor arriving in the Mayoral Car with its flag (showing the Borough's crest) - they love it."
Councillors on the Resources Scrutiny Committee have now decided to reject the task group's recommendations and retain the car.
In its report the committee said: "Members considered that the loss of the mayoral car would be too big a step to take and would devalue the role."
It said the projected £20,000 saving would have to be found elsewhere.
The committee did agree to accept the task group's recommendation to cut the cost of some civic entertainments including the annual Mayor-Making dinner.
Both reports will be considered by the council's cabinet on 14 February.