Heworth House and Little Joe's owner 'was in disbelief'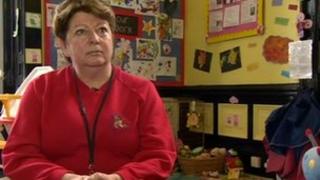 The owner of two nurseries investigated by police says she felt "total disbelief" when allegations were made about the care and welfare of children.
Six women have been told they face no further action over the care and the welfare of children at Heworth House and Little Joe's day nurseries in York.
Owner Lynne Dyrdal said she still had not been told the precise nature of the claims made in August 2011.
A city council and Ofsted inquiry is still going on.
'Construed as criminal'
After reviewing evidence, the Crown Prosecution Service said no further legal action should be taken against the women.
Four remain suspended from work while the Ofsted and local authority investigation continues.
Ms Dyrdal said she had been threatened by some parents with one man telling her "there would be murder" if his daughter had been abused.
She said that when she had visited the police station she had been told there was a list of allegations made, "two of which could be construed as criminal".
Ms Dyrdal said police refused to elaborate on the exact claims that were made.
She said: "I was angry, in total disbelief.
"The next day [after the investigation started] was dreadful, I was lucky I wasn't assaulted.
'Patience and understanding'
"I had a posse full of people here. One man was having to lean against a wall to stop himself from hitting me.
"Another man said that if anyone had abused his daughter there would be murder.
"I always said from the offset that my staff were totally innocent and I was behind them 110%."
Ms Dyrdal said she backed investigations into child safety, but said if she had a message to City of York Safeguarding Children Board "there must be a better way this could have been handled".
North Yorkshire Police said: "City of York Safeguarding Children Board (CYSCB), City of York Council, North Yorkshire Police and Ofsted would like to thank the parents of the children and the staff at both nurseries for their patience and understanding during what was a very sensitive investigation.
"They have been informed of the CPS's decision.
"Although criminal proceedings have now been completed, Ofsted, City of York Council Early Years and Childcare Service and the CYSCB are continuing to investigate the allegations and, as such, the four women remain suspended from their duties."