Scarborough path to be named after Sir Jimmy Savile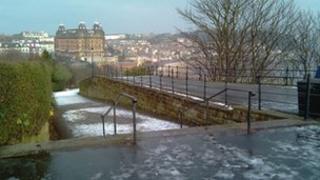 A path in Scarborough is to be named after Sir Jimmy Savile as a tribute to the broadcaster's affection for the resort.
Sir Jimmy, who died last October aged 84, is buried in the town where he had a home for more than 40 years.
A pathway running from the Esplanade to the South Bay, opposite Sir Jimmy's flat, is to be named Savile's View.
Councillor David Jeffels said: "He was a well-loved personality. He loved Scarborough and Scarborough loved him."
Mr Jeffels, chairman of the Jimmy Savile commemoration group, said council approval had been given and it was hoped the sign would be erected over the coming months.
Seafront statue
He said a memorial plaque would also be put up outside Sir Jimmy's former home.
"The pathway was regularly used by Sir Jimmy and he was often seen out running in his trademark shellsuit down to the seafront.
"We discovered this pathway didn't have a name and we thought it would be a good idea to give it one."
Mr Jeffels said plans were also in place to raise £100,000 for a statue of Sir Jimmy to be placed on the seafront.
He said the statue might feature the famous chair Sir Jimmy sat in to present his Jim'll Fix It programme.
"This is in the very early stages but I think this would attract a lot of people to the resort," said Mr Jeffels.
"Sir Jimmy could charm the birds out of the trees. He had a great many friends in Scarborough and this would be a fitting way to remember him."