Archbishop of York gets racist emails over gay marriage views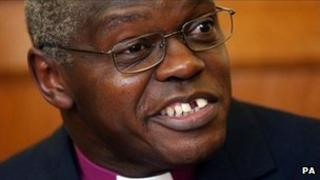 The police have been called in after racist abuse was sent to the Archbishop of York following comments he made opposing gay marriage.
Dr John Sentamu said in the Daily Telegraph that marriage must remain between a man and a woman.
The archbishop's office said he had received a "small number of abusive and threatening emails of a racist nature" and had reported them to police.
North Yorkshire Police said the abuse was being treated as a hate crime.
'Tradition and history'
A spokeswoman for Dr Sentamu said: "A large quantity of correspondence was received in response to the archbishop's interview with the Daily Telegraph, which touched on a wide range of issues.
"Amongst many positive emails that he has received, there have been a small number of abusive and threatening emails of a racist nature which North Yorkshire Police are investigating as hate crimes."
Dr Sentamu told the Daily Telegraph that he supported civil partnerships for same-sex couples, but said it was not the role of government to define what marriage was.
He said: "It [marriage] is set in tradition and history and you can't just change it overnight, no matter how powerful you are."
His interview prompted a demonstration by more than 50 supporters of gay marriage outside York Minster.
The University of York's Lesbian Gay Bisexual and Transgender (LGBT) group, which organised the demonstration, said Dr Sentamu was opposing equality.
The government will open a consultation on the issue of same-sex marriages in March.