York's Castle Piccadilly developer objects to Monks Cross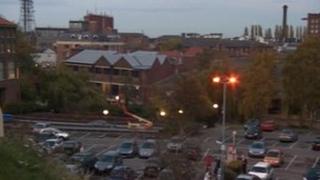 The company behind a major new shopping development in York says it will pull out if plans for a new out of town retail scheme are approved.
LaSalle UK said its £200m Castle Piccadilly scheme would not be viable if the Monks Cross centre was expanded.
It said if the out of town scheme was approved it would also sell its assets in the city including the Coppergate Centre.
Planners are due to consider the Monks Cross scheme in March.
'Detrimental effect'
The Castle Piccadilly scheme would deliver a 400,000 sq ft (37,161 sq m) shopping centre in the city centre adjacent to the Coppergate Centre and the Castle Museum.
The Monks Cross development on the edge of the city would offer a 6,000 seat community stadium and major new retail units including a 100,000 sq ft (9,290 sq m) John Lewis store.
LaSalle UK have now lodged a formal planning objection claiming the Monks Cross scheme is "contrary" to current planning policies.
It continues: "If permitted, the proposals would harm the existing shops in the city centre and would have such a detrimental effect on future investment that the comprehensive redevelopment of Castle Piccadilly would not happen.
"In this event LaSalle UK would look to dispose of their assets in York. The most likely disposal would be of the individual parts to maximise the asset value."
Oakgate (Monks Cross) Ltd said its scheme would create about 1,000 full-time equivalent jobs and would improve the city's overall retail offer.
The scheme is also the Labour-controlled City of York Council's preferred option of delivering a new community stadium.
York City Football Club has previously said the new stadium was the only way to guarantee its long-term future.
Councillor Sandy Fraser said: "The only way we can deliver a new stadium, a community stadium, for York people is to actually have this development. Monks Cross and the city centre should compliment each other."
The Monks Cross proposal has also been criticised by city centre traders who have formed the Campaign for York group.
It claims the expansion would effectively double the size of the existing shopping area at Monks Cross and agree with LaSalle that it would pull trade from the city centre.