Harrogate Borough plans £12m HQ on police site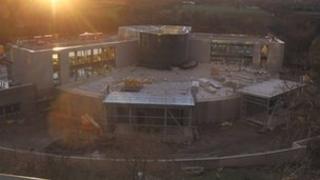 A new £12m council headquarters will be built on the site of Harrogate Police Station when it closes later this year.
Harrogate Borough has agreed to buy the town centre site, in North Park Road, once most of Harrogate's police move to a new £18m base in Beckwith Knowle.
Space in the new council headquarters will be given to the town centre police Safer Neighbourhood Team.
In the meantime the 35-strong team will move into a temporary base at Craven Lodge on Victoria Avenue.
North Yorkshire Police said the agreement with the council meant it could fulfil its promise to keep a police presence in the town centre.
Chief Constable Grahame Maxwell said: "Being accessible to the people we serve is at the heart of what we do and therefore a key priority for us.
"We welcome the option of sharing premises and providing a one-stop shop for members of the public, which not only benefits local residents but makes sound financial sense."
Job cuts
The Beckwith Knowle site will accommodate about 200 officers and staff, a 16-cell custody suite, two vehicle docks and a public reception area. It is expected to be completed by May.
The council said its new headquarters would be funded by borrowing and by the sale of its existing sites at Crescent Gardens, Knapping Mount, Scottsdale House, Springfield House and Victoria Park House.
It said the cost of borrowing would be covered by savings made through job cuts when 500 staff move to the new site.
The council said 12 posts were likely to go and it hoped the jobs could by lost by natural turnover.
Councillor Don MacKenzie, leader of the council, said: "We recognised that decisive action must be taken now to enable the council to continue to provide our residents with quality service at lower cost in the years to come.
"Bringing our main administrative office staff based in Harrogate into a single building will make it easier to achieve fundamental efficiencies and save money."