Iron Age gold bracelet to stay at Yorkshire Museum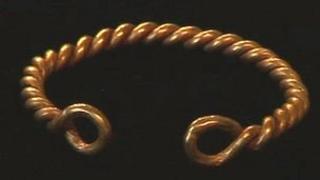 A York museum has raised enough money to keep one of two gold bracelets dating back over 2,000 years.
The two solid gold Iron Age torcs were discovered by metal detector enthusiasts in a stream near Towton, North Yorkshire.
The Yorkshire Museum raised £25,000 in public donations to buy one of the bracelets.
Museum curator Andrew Morrison described the find as "the crown jewels of Yorkshire and the north of England".
The bracelets are made of twisted gold and are believed to belong to a leader of the Brigantes tribe, who ruled most of North Yorkshire during the Iron Age.
They have been dated to around 100BC-70BC and are the only pieces of Iron Age gold jewellery ever found in the North of England.
The head curator of York Museums' Trust, Andrew Morrison, said: "This is probably belonging to somebody who claimed to be a king or a tribal leader, certainly in charge of the area.
"They are the first ones ever to be found in the north of England. So they really rank with the Crown Jewels in that sense."
The museum is appealing for further donations to raise £35,000 to buy the second bracelet.