York Minster protest over Archbishop's view on gay marriage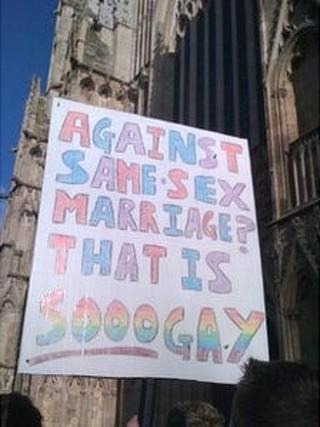 More than 50 supporters of gay marriage equality have demonstrated outside York Minster.
The protest followed comments by the Archbishop of York in the Daily Telegraph that marriage must remain between a man and a woman.
The University of York's Lesbian Gay Bisexual and Transgender (LGBT) group, which organised the event, said Dr John Sentamu was opposing equality.
The Archbishop's office said it had no comment to make on the protest.
In an open letter Tim Ellis, president of the University of York Students' Union, said it was "deeply distressing" that the Archbishop should favour such an "archaic view".
"Whilst the Archbishop may say that it is not the place of the government to define what marriage is, I would argue that it is the state's responsibility to ensure that all UK citizens can enjoy equal rights regardless of their sexual orientation," the letter stated.
'Civil right'
Dr Sentamu told the Daily Telegraph that he supported civil partnerships for same-sex couples but said it was not the role of government to define what marriage was.
He said: "It [marriage] is set in tradition and history and you can't just change it overnight, no matter how powerful you are."
The government will open a consultation on the issue of same-sex marriages in March.
Cem Turhan, LGBT officer with the University of York Students' Union, said: "Marriage is a civil right and we demand equality for everyone.
"We should live in a country where all our laws are not dictated by one religion."
Mr Turhan said he hoped the protest would prompt the Archbishop to apologise for his comments.
Officials at York Minster said the demonstration had not disturbed any services.