Scarborough statue vandalism appeal renewed after paint evidence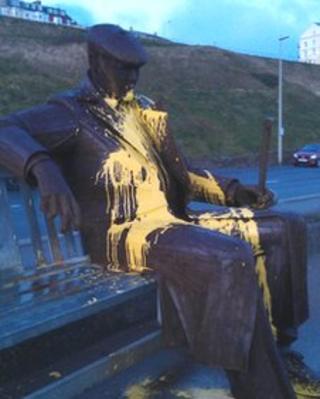 Police have renewed their appeal for information following new evidence of a paint trail after a statue of an old soldier in Scarborough was vandalised.
North Yorkshire Police said it had found a trail of yellow paint which stops in the middle of a road.
Officers believe the vandals may have got into a car after stopping to throw the paint on Thursday night.
The North Bay steelwork depicts one of the first Allied soldiers to enter the Belsen concentration camp.
Police are not ruling out the possibility that the use of yellow paint was an act of anti-Semitism to coincide with Holocaust Memorial Day.
'Come forward'
The force is looking for a car with yellow paint spatters on it and for people with yellow paint on their clothing or hands to come forward.
It is also appealing to anyone who may have found a discarded container of yellow paint or had any stolen in the past few weeks.
PC Alex Parker, who is investigating the incident, said: "Someone somewhere knows what happened, whether they know the person responsible or saw what happened.
"I am appealing to them to come forward and tell us what they know."
Officers said it was also trying to pinpoint a time scale of the damage.
A £500 reward was offered by an unnamed businessman to help police catch the vandals.
The statue had been loaned to the town by artist Ray Lonsdale last year. Local pensioner Maureen Robinson used her life savings to ensure the piece could remain permanently in Scarborough.
The piece, called Freddie Gilroy and the Belsen Stragglers, is based on a former miner who was one of the first soldiers to enter the concentration camp on its liberation in the final days of World War II.