Reward offered over Scarborough statue paint attack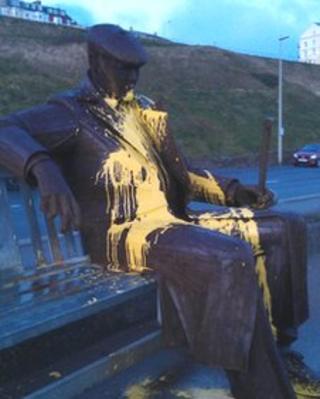 A £500 reward has been offered after vandals threw yellow paint over a statue of a soldier in Scarborough.
The North Bay steelwork depicts one of the first Allied soldiers to enter the Belsen concentration camp.
Police are not ruling out the possibility that the use of yellow paint was an act of anti-Semitism to coincide with Holocaust Memorial Day.
An unnamed businessman has offered the reward to help catch those behind the "disgraceful" incident, police said.
The statue had been loaned to the town by artist Ray Lonsdale last year and local pensioner Maureen Robinson used her life savings to ensure the piece could remain permanently in Scarborough.
The piece, called Freddie Gilroy and the Belsen Stragglers, is based on a former miner who was one of the first soldiers to enter the concentration camp on its liberation in the final days of World War II.
Insp Tony Quinn, of Scarborough's safer neighbourhood team, said: "Many people have been outraged by this disgraceful and mindless act and we urge anyone who knows who the people responsible are, to contact us immediately.
"Freddie is much loved by the people of Scarborough and he was saved for the town by a generous local resident at considerable expense.
"We are appealing to anyone who saw anything suspicious in the North Bay area prior to 8.15pm on Thursday evening, or anyone who believes they know who is responsible, to come forward.
"It is vital that the people responsible are held to account for their actions."