York rapper gets BBC masterclass at Abbey Road studios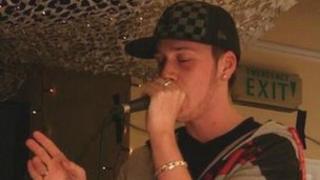 A York musician is heading to London's Abbey Road studios to take part in a music masterclass.
Liam Powers, who performs as Kritikal, is taking part in special sessions run by BBC Introducing, designed to help unsigned artists break into the music industry.
The 20-year-old rapper described the opportunity as "the best thing that has ever happened in my life".
He is being joined in London by four other musicians from North Yorkshire.
The group will take part in training sessions run by music industry experts.
Performers such as jazz musician Jamie Cullum and Radio One DJ Jo Whiley will be giving advice.
Liam said he started rapping four years ago following the death of his father.
"That's the reason I started writing. That definitely had a big effect," he said.
"And also the way you grow up and you see other people's lives and it's different to yours and you think 'why is it me, why is it different?'
"And you start piecing things together in your life. It's like a big journey."