York Mystery Plays attract 1,200 'talented' volunteers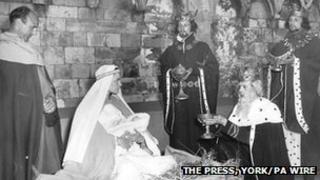 People in York have been praised for their "enthusiasm" after about 1,200 volunteers came forward to help stage the city's famous Mystery Plays.
Organisers said this year's plays would be the biggest outdoor theatre production in the city in years.
Performed in York since the middle ages, the Mystery Plays present a biblical history of the world.
Liam Evans-Ford, York Mystery Plays community producer, said: "There are some really talented people in York."
'Good start'
The Corpus Christi drama in York began in 1376, at a time when few people could read or write.
The plays, made up of 48 individual pageants, told in graphic detail the history of the world from creation to Judgement Day.
Revived in the 1950s, the plays were performed in the ruins of St Mary's Abbey until the 1990s when they moved to York Theatre Royal.
The last full-scale production was the Millennium Mystery Plays at York Minster in 2000.
Mr Evans-Ford said it was "a pretty good start" that so many people had volunteered to take part in both acting and backstage roles.
"It just shows people's enthusiasm for the York Mystery Plays," he said.
"It's a story we've been telling as a city and a community for over 800 years and it's important we keep doing that."
Each of this year's performances of the Mystery Plays, which will be held throughout August in the gardens of York Museum, is expected to attract an audience of about 1,300.