Cunard's Queen Elizabeth plans Sir Jimmy Savile tribute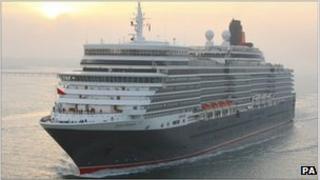 Luxury cruise company Cunard has confirmed its liner Queen Elizabeth is to pay tribute to Sir Jimmy Savile with a special sail-past of Scarborough.
The veteran broadcaster, who died at the age of 84 on 29 October, is buried in the resort, where he had a home for more than 40 years.
He had travelled extensively around the world on Cunard ships.
The Queen Elizabeth has been specially scheduled to sail past Scarborough at 15:00 BST on 1 August 2013.
A spokeswoman for the cruise company said the vessel would sound its whistle in respect to Sir Jimmy, who was "a true friend of Cunard".
"He was marvellous on the ships, always speaking to anyone and everyone as he made his way round the decks," she said.
The sail-past has been scheduled to take place during daylight hours to allow people to see the vessel from the shore.
Sir Jimmy was among celebrity guests at a ceremony in Southampton when the Queen officially named the new vessel on 12 October 2010.
His last voyage was aboard Queen Elizabeth on her maiden Round Britain trip in September, just weeks before his death.
The ship's predecessor Queen Elizabeth 2 (QE2) ended its life as an ocean liner in November 2008 and was sold to Dubai-based property developers Nakheel.