Cumbria family leaves £1m ticket under Christmas tree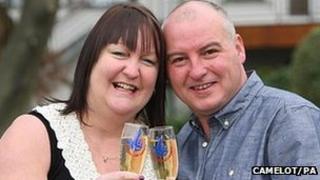 A Cumbria family which scooped £1m on EuroMillions left the unchecked winning ticket under the Christmas tree for two days.
Karen Shaw, 44, of Grange-over-Sands, had bought four tickets, which she put in an envelope among the presents.
It was only after opening presents with her husband, Anthony, 43, and children Sara, 22, and Karl, 20, that they decided to check the numbers.
It was then that they found one of the tickets had won on 23 December.
Mrs Shaw, who manages a sheltered housing scheme, said: "We eventually all sat down around 4pm on Christmas Day to open the presents and I remembered the tickets.
"Karl was looking at numbers on his phone and suddenly said 'you had better check it, I think it's a winner'.
"After looking at it we all agreed the right number was there but none of us could believe it was real.
"It is unbelievable that we had £1 million under our tree all that time."
Some of the money will be used to buy a property each for her son and daughter.
She added: "Anthony and I have always wanted to go on an Alaskan cruise so we can plan that now.
"And of course we will also treat the rest of the family."
The winning ticket was bought in Asda in Kendal.