Paediatric services under review at Friarage Hospital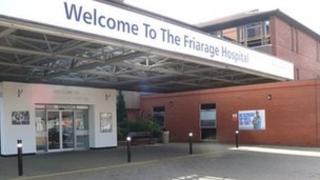 Paediatric services, including the maternity unit, are under review at a North Yorkshire hospital.
The Friarage Hospital in Northallerton is run by South Tees Hospitals NHS Trust.
Simon Pleydell, the trust's, chief executive said the hospital was "undoubtedly" looking at some change but no "firm plans" had been developed.
John Blackie, leader of Richmondshire District Council, said he was "appalled" at the proposals.
The National Clinical Advisory Team, a pool of clinical experts, has been called in to report on the suitability of any changes.
Some services at the Friarage may be provided via a day unit and patients requiring longer treatment could go to other hospitals.
Some patients may have to travel to the James Cook Hospital in Middlesbrough for treatment.
'Manufactured' argument
The Friarage is a 230-bed hospital serving 122,000 people from the North Yorkshire moors to the central Pennines.
Mr Pleydell said the hospital was one of the country's smallest district general hospitals and over the next two years it could be struggling to recruit key members of staff.
He said the range of trust services had to be conditional "on our ability to deliver safe, sustainable, quality services now and in the future".
He said there would be public consultation on any suggested changes.
Mr Blackie said the district council had voted unanimously against plans to transfer any facilities.
He accused management at the hospital of "manufacturing" the argument over staffing.
The report on any changes is due before Christmas and consultation is expected to start next year.