Cat 'torn apart' by hunting dogs in North Yorkshire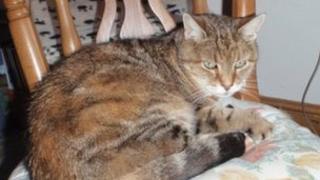 A couple from North Yorkshire have said their 18-year-old deaf cat was torn apart by a pack of dogs during an organised hunt.
Les and Margaret Atkinson, from Stoupe Brow, said 27 hunting dogs attacked the cat, called Moppet, outside their home.
Huntsmen returned the cat's remains a few days later, saying it had been a "regrettable" incident, they said.
The hunts involved declined to comment but the Countryside Alliance said it was an unfortunate accident.
North Yorkshire Police confirmed the cat's death had been reported and the force was investigating the incident.
Heard a commotion
Mrs Atkinson said the cat's body had been returned two days after the attack in a dog food sack.
The Staintondale and Goathland hunts were taking part in a legal event, on a public right of way, close to the Atkinson's home near Ravenscar earlier this month.
Mr Atkinson said he came out of the house after hearing a commotion.
He said: "There were 27 hounds there and what I was witnessing, though I didn't know at the time, was our cat being torn to bits.
"I saw one huntsman bend down and pick up the cat. There was blood pouring from it and he rode off. It was quite unbelievably horrible."
Simon Hamlyn, northern regional director at the pro-hunting Countryside Alliance, said: "It was obviously not the intention of the hunt.
"That is not how huntspeople behave. It was just an unfortunate accident that doesn't happen that often."
The Atkinsons said they spoke to a hunt representative shortly after the incident.
Mr Atkinson said: "He came back to us and told us yes the cat had been killed and it was a regrettable accident. He said they were very sorry and would return the cat's body."