North Yorkshire Police number 'could fall further'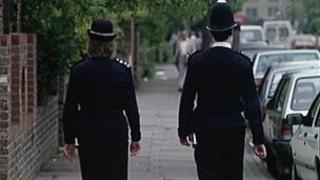 Police numbers in North Yorkshire could fall further by 2015, according to the temporary Assistant Chief Constable.
Iain Spittal said in a "worst-case scenario" the force could lose 173 officers by 2015 due to budget cuts.
The North Yorkshire Police Federation said the cut in officer numbers could compromise public safety.
The force must save £28m over the next four years and has already cut 323 civilian and 65 officer posts.
The North Yorkshire Police Authority plans to save £11m from police staff costs, £11m from police officer costs and at least £6m from reducing overheads.
The force had 1,500 serving officers in 2010 and that figure has already fallen to 1,443.
It will drop to 1,441 in April.
'Not sustainable'
Mr Spittal said that while the force's medium-term financial plan suggested officer numbers could drop to 1,270, that was based on initial estimates and assumptions.
He added: "We see that as our worst-case scenario. We are working hard to make sure we don't get down to that number."
Mark Botham, from the North Yorkshire Police Federation, said force numbers were now closer to what they were in the 1970s.
He added: "Let us be clear, 1,270 police officers when the population is increasing is not sustainable. It will be very challenging and the service will be compromised."
Mr Spittal admitted that if the number fell to that level, the service would be "stretched".
He added: "Let us be clear, what it means is that communities across North Yorkshire will see much less of their police force.
"We will be focused on meeting day-by-day demand, on the protection of life and property."