Tree disease phytophthora lateralis discovered in North Yorkshire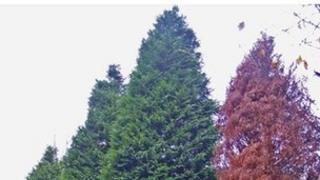 A fatal tree disease has been discovered in North Yorkshire.
The fungus-like phytophthora lateralis has attacked the roots of more than 400 Lawson cypress trees at Blubberhouses near Otley.
The organism is usually found in the United States and Canada and was only discovered in the UK last year.
Yorkshire Water, which owns the land, said the trees would be felled and biosecurity measures have been put in place.
Geoff Lomas, recreation and catchment manager for Yorkshire Water, said: "This is a rare but fatal disease, and as a responsible landowner we're doing everything we possibly can.
"We are taking expert advice from the Forestry Commission and working with our neighbours to contain the disease and stop it from spreading."
The disease mainly attacks Lawson cypress, although it can infect other species, particularly Pacific yew, a close relative of Britain's native yew.
It can spread either through water or through infected soil being carried on footwear, vehicle wheels, pruning equipment and other tools.