North Yorkshire County Council 'miffed' by criticisms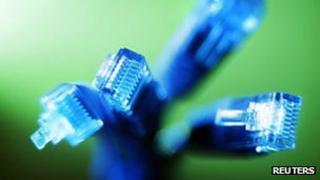 North Yorkshire County Council has hit back over criticisms by the Countryside Alliance over the speed of the superfast broadband roll out in rural areas.
John Moore, the council's director of finance and IT, said the council was "miffed" by the comments but agreed the roll out process was "torturous".
"We have done more than any other council," he said.
The alliance had asked whether local authorities could deliver the project.
In October last year Chancellor George Osborne named North Yorkshire, along with Cumbria, Herefordshire, and the Highlands and Islands, as pilot areas for rural superfast broadband networks.
Mr Moore said the problems of providing rural broadband were universal.
"The further out into the dales and moors the less service you can get," he said.
He said the council's Connecting North Yorkshire strategy was working as fast as the government allowed and would hit the deadline for the end of the procurement process.
Roll out of the service is planned to begin in October 2012.
'Laudable' efforts
The council said it had set up a company, NyNet, already supplying broadband services to to 90% of the council's public sector network.
He added: "You don't build a motorway overnight."
Mr Moore said Mr Osborne had praised council progress in the recent Autumn Statement and the government body, Broadband Delivery UK, was using his council's experience to help other authorities.
"We know how to do it," he said.
Jill Grieve, head of communications at the Countryside Alliance, said North Yorkshire's efforts were "laudable".
She added that the alliance understood the need to get the project right but that it should be an "urgent" process and broadband for rural areas was not getting enough support from the government.
"The farmer in Swaledale should be able to compete, broadband for farmers is important," she said.