New plan for decaying Scarborough sea defence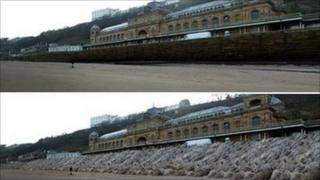 New sea defences could be built in Scarborough to protect its South Bay and the Spa entertainment complex.
Scarborough Borough Council officers have drawn up plans to bolster the bay's defences and will present six options to its cabinet next week.
The preferred option would see a rock revetment and wave wall constructed 1.1m (3ft 7ins) above walkway level.
The council said the current sea wall was not sufficient and posed a "serious risk" to public safety.
The other five options include doing nothing, doing minimal repairs to the sea wall or building wave walls 0.6m or 1.4m above walkway level.
Once cabinet members have decided which option to take forward, the council will submit a business case to the Environment Agency for funding. Work on the project is not likely to start before July 2014.
Hotel destroyed
Councillor Andrew Backhouse, the cabinet's portfolio holder for coastal and flood defences, said: "The current height of the sea walls is not sufficient to prevent severe wave overtopping, which causes damage to the promenades and adjacent areas and presents a serious risk to public safety.
"We are approaching the point when we can no longer just simply pursue a tactic of make do and mend.
"The sea defences are inadequate, wave overtopping is well beyond safe levels and will get worse and the effectiveness of these coastal defences continues to deteriorate."
Mr Backhouse said a major landslide could endanger the Spa complex, in a similar manner to the 1993 landslip which destroyed the Holbeck Hall Hotel in the town.
He said: "The sea wall around the Spa dates back to the 1840s and is in a deteriorating condition.
"It plays a key role in the stability of the cliff behind, supporting the toe of the cliff and preventing its erosion and over-steepening, which would inevitably lead to large scale landslips.
"It's clear the existing coastal defences at the Spa are approaching the end of their life, despite ongoing maintenance and repair."