Alan Ayckbourn play moves from Scarborough to New York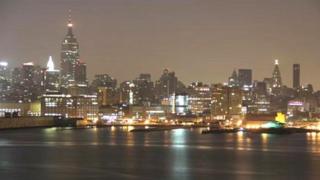 A play written, directed and performed in Scarborough has transferred to New York for a season off Broadway.
Neighbourhood Watch, the 75th play written by Sir Alan Ayckbourn, is showing at the 59E59 theatre in Manhattan.
The eight-strong UK cast has swapped the traditional seaside resort for the bustle of the Big Apple for a four-week run.
The company was invited to perform as part of the Brits Off Broadway festival, which aims to showcase the UK's most innovative and provocative theatre.
Neighbourhood Watch is a dark farce which deals with a brother and sister's attempt to maintain law and order in their neat housing estate.
As their well-meaning attempt descends into violence and vigilantism, the play examines the dangers lurking in self-appointed sub committees.
'Fear of rioters'
Sir Alan said he wanted to explore "what happens to a community who think they're decent and well behaved. But when you create a gated community, you're caught between the devil and the deep blue sea. You don't know who you choose to lock yourself in with".
The play's characters adopt increasingly extreme measures to protect their homes.
First a fence topped with razor wire is constructed to keep out undesirables.
Then a set of stocks is installed on a mini roundabout and residents are issued with identity cards.
But their fear of lawlessness creates a microcosm beset by intolerance and oppression.
The play was written before the August riots, but first performed in Scarborough's Stephen Joseph Theatre immediately after them.
It led some UK critics to praise the playwright's apparent prescience, but he responds by saying his play is less about the rioters than people's fear of rioters.
"You watch the news and you get the impression that the hounds of Hell are baying at your front door, but the reality is less frightening than the perceived reality."
Sir Alan is in New York to present the play and fly the flag for his home town.
He said being in New York was good for his ego as Yorkshire audiences liked to pretend he is nothing special.
"It's a terrific morale boost," he said. "When we play in Scarborough, they like to downgrade us. 'If you're that good, what are you doing here?', they say.
"And when you go to New York and you get the sort of acclamation we've had over the last three shows, you know you're playing in the big league with the big hitters."
Neighbourhood Watch returns to the UK in the new year when it will go on tour.
Meanwhile, Ayckbourn has already written his 76th play. Called Surprises, he intends to direct it for the Stephen Joseph Theatre next summer.
This most prolific of English playwrights shows no sign of slowing down his astonishing output while audiences on both sides of the Atlantic prove eager to watch what he has to offer.