Yorkshire Dales National Park reveals Anglo Saxon building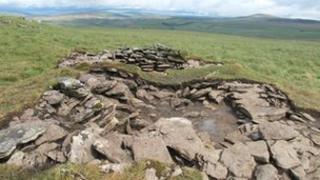 The ruins of what is thought to be an Anglo Saxon building have been revealed by amateur archaeologists in part of the Yorkshire Dales National Park.
The stone building, near Selside, North Yorkshire, was uncovered by members of the Ingleborough Archaeology Group.
Samples of charcoal found in the soil floor were carbon dated. That revealed they date from between 660 and 780 AD.
Robert White, from the Yorkshire Dales National Park Authority, said the building was an "exciting" discovery.
"The National Park has a wealth of archaeological sites, but very few have been excavated and even fewer since scientific dating techniques became widely available," he said.
"This is the first building in the national park that is firmly dated to the 7th Century and is one of only a handful in the north.
"The results help fill in a picture of how life and farming communities developed in the Dales, and shows just how much unrecorded archaeology there still is."
Early Neolithic
Dr David Johnson, who supervised the excavation, said items from an even earlier period were also found in the remains of the building.
"We found small pieces of chert, a dark, rock-like flint that was knapped to make small tools," he said.
"These are likely to date from the early Neolithic period, possibly 6,000 years ago and it was probably pure chance that the pieces found their way into the building," he said.
"They may have been trapped in turf used for sealing the walls or roof of the building."
The site where the building was found has now been backfilled and the turf re-instated to protect it.