Motorcyclist caught doing 116mph near York banned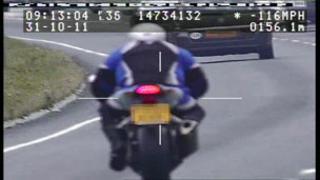 A motorcyclist who was caught doing 116mph (187km/h) in York has been banned for three months.
Matthew Michael Greenwood, 34, was riding his bike on the A1237 at Huntington in York at 09:15 GMT on 31 October when his speed was recorded.
North Yorkshire Police said it was the highest speed recorded by the force's mobile safety camera to date.
Greenwood, from York, pleaded guilty to speeding at Selby Magistrates' Court and was also fined £395.
The usual speed limit on the A1237 is 60mph and police said the road had been wet with a significant amount of traffic.
Insp Dave Brown, head of strategic roads policing at North Yorkshire Police, said: "This is one of the worst cases of inappropriate and excessive speed I have seen in 30 years of policing.
"Greenwood rode his bike at almost double the legal speed limit in heavy, rush-hour traffic and showed complete disregard for the safety of other road users."