Striking public sector workers march through York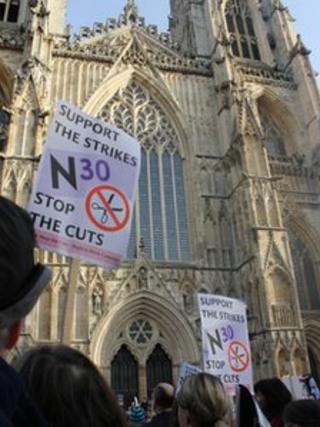 About 2,000 people have marched through the centre of York as public sector workers staged a one-day strike.
The action, over pension reform, has shut or partially closed more than half of North Yorkshire's schools.
Trade unionists said they hoped to pressure the government into offering a better deal.
Cabinet Office Minister Francis Maude has branded the action "indefensible and wrong".
Unions object to government plans to make their members pay more and work longer to earn their pensions.
Chancellor George Osborne urged them on Tuesday to "get back round the negotiating table" as he warned the strike was "not going to achieve anything".
The march in York, from Cliffords Tower to the Minster, was organised by York Stop the Cuts.
Graham Martin, from the organisation, said members hoped the action would force the government to change its mind over reforming public sector pensions.
Mr Martin added: "We are bringing together all the unions and indeed people from across the city to stand up to changes that are going to have a dramatic effect on a lot of people."
Care arrangements
Industrial action affected a range of services from education to social care.
Stella Smethurst, the Unison representative at North Yorkshire County Council, insisted for many union members strike action was a "last resort".
She said: "Our members are ordinary people. Cleaners, office workers and social workers, just ordinary people and not militant at all."
A spokesman for North Yorkshire County Council said: "A number of alternative arrangements have been made for users of adult social care and learning disabilities in parts of Scarborough, Selby, Harrogate and Richmond.
"Users will be provided with alternative activities or locations, or will be supported at home."
Libraries at Whitby, Scarborough, Boroughbridge and Great Ayton have closed.
Full details of services affected can be found on the county council website.
The City of York Council said it had "contingency plans" to keep services running but said it would be "unlikely" to be able to handle the normal level of inquiries from the public.
Residents due to have their bins emptied were asked to put them by the roadside but if they were uncollected by the end of the day to take them back on to their property.
School closures
In the City of York 35 of the 61 schools are closed with a further 20 partially closed.
Just six schools are fully open.
Across North Yorkshire 161 of the county's 372 schools are closed and 61 partially closed.
All hospitals in North Yorkshire said they still expected only minimal disruption to services.
Patients referred to York and Scarborough hospitals by GPs for X-rays have been told the service has been suspended for the day of action.
But patients needing emergency X-rays are being cared for.
Yorkshire Ambulance Service urged people to use the service wisely for patients with serious and life-threatening conditions only.