Campaign to keep Ray Lonsdale sculpture in Scarborough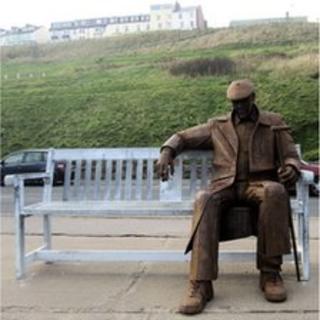 A campaign has begun in Scarborough to keep a sculpture which was temporarily loaned to the town.
The steel work, which is on the North Bay, was loaned for one month by artist Ray Lonsdale.
Local resident Jakki Willby is hoping to raise money to make the piece a permanent fixture.
Mrs Willby said: "I literally woke up on Thursday morning after seeing the sculpture and thought to myself, 'I'm going to raise £50,000 and keep it'."
The piece is called Freddie Gilroy and the Belsen Stragglers.
It is based on a former miner who was one of the first Allied soldiers to enter Belsen concentration camp on its liberation in World War II.
Mrs Willby has met the council to discuss the campaign and get advice on fundraising.
'Get in touch'
Following the meeting, Mrs Willby said: "This is really going to happen."
The mother of six who confesses to have "never done anything like this before" said the reaction from the public had been very positive.
"I just really feel it needs to stay here," said Mrs Willby.
She will work alongside Albert Brewster, the nephew of the man depicted in the sculpture, to raise the money needed to buy the work.
County Durham sculptor Ray Lonsdale said: "From the minute this sculpture hit the ground it got a lot of interest."
Mr Lonsdale said he was flattered with the interest in his work.
A second sculpture loaned to the council, A High Tide in Short Wellies, is based on Whitby's West Pier.