Fears for Barlow Common nature reserve's future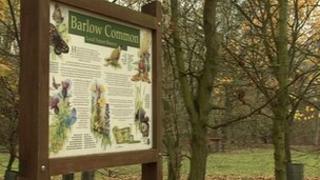 Concerns have been expressed over the future of a North Yorkshire nature reserve after its staff lost their jobs due to budget cuts.
Barlow common, near Selby, was a reclaimed industrial tip which has been turned into a nature reserve with woodland, a small lake and reed beds.
Selby District Council said it had no choice but to make difficult decisions.
Ken Smith, secretary of local group the Selebians, said: "It will be prone to vandalism and go to rack and ruin".
And Malcolm Myers said his son Stephen, who has learning disabilities, had volunteered for more than 10 years at Barlow Common, but was no longer able to as the two rangers that had supervised him had been made redundant.
'Not under threat'
Mr Myers said: "Stephen's seen this place develop, it's his whole life."
The ground was used as a ballast tip for about 50 years until 1983 when tipping ceased. Part of the area was filled with water and now forms a small lake.
Selby District Council acquired the site in 1986 to create the nature reserve.
The council said that similar sites were successfully run without staff.
It also stressed that Barlow Common was not under threat of closure and access would continue for users.