Appeal to keep Towton Iron Age treasure in Yorkshire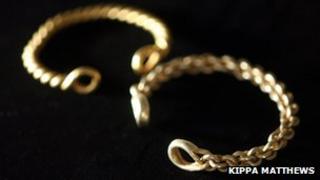 An appeal has been launched to raise £60,000 to ensure two gold bracelets, thought to be the first gold Iron Age jewellery to be found in the north of England, can stay in Yorkshire.
They were found by two metal detector enthusiasts in a stream near Towton, North Yorkshire, in 2010 and 2011.
Before these finds, the furthest north such jewellery was found in England was in Newark, Yorkshire Museum said.
The torcs have now gone on display at the Yorkshire Museum in York.
The first of the bracelets, known as torcs, dated between 100 BC and 70 BC, was found in May 2010 by metal detector enthusiasts Andrew Green and Shaun Scott.
The torc was later declared to be treasure by the North Yorkshire coroner.
An inquest into the second bracelet, which was found in April 2011 within metres of the first, will be held next year.
'Serious wealth'
The bracelets, which are made entirely of gold, are thought to have belonged to an extremely wealthy, possibly royal, member of a tribe known as the Brigantes.
The Brigantes ruled over most of what is now North Yorkshire about 2,000 years ago.
Natalie McCaul, assistant curator of archaeology at the Yorkshire Museum, said the torcs were a "stunning" find.
"They have made archaeologists and historians think again about what life was like in Yorkshire 2,000 years ago," she said.
"Until now, no-one had evidence of gold being worn as jewellery at this time in the north of England.
"It shows that there was serious wealth here before the Romans, something which until now we could only speculate about."
Ms McCaul said she hoped enough money could be raised to buy the bracelets so future generations could enjoy them in the county where they were discovered.