Human remains of eight people 'could be identified'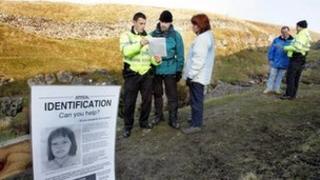 New information could help identify eight bodies discovered in North Yorkshire over the past 30 years, according to police.
North Yorkshire Police is reviewing eight "cold cases", the oldest of which dates back to 1981.
The force said the review would enable it to take advantage of advances in technology not available at the time the remains were uncovered.
Officers said identifying the human remains was a "moral" duty.
Det Supt Lewis Raw, head of North Yorkshire Police's major and specialist crime unit, said: "I think the more work we do and the wider we disseminate the information we have, the more likely we are to get identifications."
Facial reconstruction
The oldest case dates back to August 1981, when the skeletal remains of a woman were found at a rural location near Sutton Bank.
The case was one of the first to make use of facial reconstruction, but that failed to identify the woman.
In April 1999 the remains of a baby boy were discovered wrapped in plastic bags in Ryedale.
A post-mortem examination found he was a baby of about 34 weeks' gestation but was unable to confirm if the child had been born alive. A cause of death could not be established.
The discovery, in 2004, of the remains of an unknown female on the Pennine Way in the Yorkshire Dales led to a major police inquiry.
The original investigating officer Det Insp Pete Martin said: "We owe it to her to find her name and to notify her family.
"She has a name and an identity and I need someone to come forward and restore them to this unfortunate lady."
Other cases being reviewed by police include the discovery of a male skull in the North Sea in 2008 and the body of a man discovered floating in Scarborough harbour in 1989.
Two male bodies were found in the River Ouse - one at Naburn near York in 2003 and the other at Lendal Bridge in York in 1992.
The final case involves a decomposed male body found on moorland 10 miles west of Masham in 1997. Officers believe the man could have died almost 20 years earlier.
Det Supt Raw said the police had a duty on behalf of the coroner to try to uncover their identities.
He added: "There is also a moral case as well. Here we have somebody who has died and presumably somewhere they will have a family.
"There is a duty on us to try and find that family and perhaps bring some closure to that family in terms of the death of a loved one."
North Yorkshire Police has put more information about all eight cases on the force's website.