Sir Jimmy Savile's coffin encased in concrete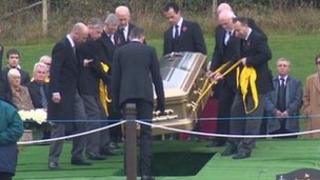 Sir Jimmy Savile's coffin has been encased in concrete as a "security measure" amid speculation about its contents.
Funeral director, Robert Morphet, said the decision had been taken after incorrect reports in the media about items placed in the grave.
He insisted nothing of monetary value had been buried with Sir Jimmy.
The DJ and entertainer was laid to rest at Woodlands cemetery in Scarborough on 10 November.
Mr Morphet, of Bradford-based Joseph A Hey & Son, said the decision to use concrete had been made jointly by the company and Sir Jimmy's family.
He said: "We felt it was better to securely backfill the grave with a dry-mix of concrete for two reasons.
"One for security, so that the grave couldn't and wouldn't be opened again and secondly to provide a secure foundation for the memorial when it is placed on the grave."
He added that the coffin was only gold in colour and that despite media speculation none of Sir Jimmy's trademark jewellery was in the grave.
Mr Morphet said: "People may decide there is something of value but it was a steel-casket sprayed gold and I can confirm there was nothing of any value there. He was wearing his medal that he got from the marines, his cigars and his beret."
He insisted the concrete was just a "precautionary" measure.