Villagers at Hensall concerned over mining subsidence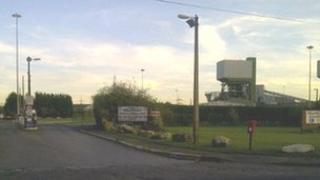 Residents in a North Yorkshire village have said they fear mining work has damaged their homes and businesses.
Property owners at Hensall, near Selby, maintain that cracks appearing in walls and floors are a direct result of mining subsidence.
UK Coal, which owns Kellingley Colliery five miles (8km) away, has been carrying out underground mining work in the area.
The company said it would "make good" any damage caused by subsidence.
David Firth, who moved to Hensall eight years ago, said he had no idea that his home could be affected by subsidence.
He added: "We've got a crack at the front - half the house is going one way and the other half the other way, it is sort of pulling itself apart. I am concerned the subsidence will end up being more than just superficial cracks."
'Very worried'
Michael Wright, chair of the parish council, said Mr Firth was not the only resident affected.
He said: "People have been saying skirting boards were falling off walls and doors weren't closing properly. People are very worried."
UK Coal said in a statement that it adhered to the strict regulations laid down by the Mining Subsidence Act.
The statement said: "If people's homes have suffered from coal mining damage, they have recourse to make a claim under the Coal Mining Subsidence Act 1991.
"As the licensed coal mine operator we have a duty to look at those claims and, if they are due to mining, to make good the damage."