Remembrance Day: Scarborough street artist's graffiti tribute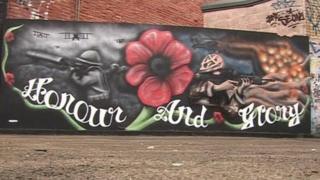 A street artist has created a graffiti tribute on a wall in Scarborough to commemorate those killed in wars.
Andrew Nurse has painted a giant poppy on a public wall in a main thoroughfare for Remembrance Day.
Mr Nurse said: "Everyone knows a friend or family member that's served in a war or is there now and I think it's nice for them."
Mr Nurse has legally created many other images on walls in the town, including a memorial to the victims of 9/11.
Peter Parkinson, chairman of The Royal British Legion Scarborough branch, said: "My reaction to this image is absolutely amazing and gratitude to a young man who can think to do something like this and keep the remembrance time in the public eye."