Body of Pte Matthew Haseldin repatriated from Afghanistan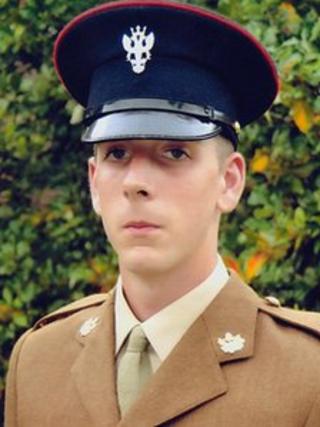 The body of a soldier from North Yorkshire who had been in the army just a few months when he was killed in Afghanistan has been repatriated.
Pte Matthew Haseldin, 21, from Settle, was killed on 3 November during an insurgent attack in Helmand province.
Pte Haseldin was a member of the 2nd Battalion, The Mercian Regiment.
His family took part in a private ceremony at a purpose-built repatriation centre at RAF Brize Norton in Oxfordshire.
'Loving son'
Crowds were later expected to line the route of the cortege through nearby Carterton, on its way to the John Radcliffe Hospital in Oxford.
At the time of his death Pte Haseldin's parents, Alan and Jill, described him as "a loving son".
They said: "He had only been in the army for a few months. Friends and family will miss him greatly."
Pte Haseldin was part of an operation to maintain freedom of movement for the local population in the Nahr-e Saraj district of Helmand Province, the Ministry of Defence said.
His patrol was carrying out a check when it came under small arms fire and grenade attack, during which Pte Haseldin was fatally wounded.
'Hugely popular'
Lt Col Colin Marks, commanding officer of the 2 Mercian, said Pte Haseldin "stood out as a young man of immense character".
"Hugely popular, it was impossible to tell that he was the newest member of 7 Platoon, all of whom loved him like a brother," he said.
"Steadfast in battle, Matthew faced more challenges in the few short weeks he spent in Helmand than many soldiers experience in a lifetime."
The number of British personnel who have died since operations began in Afghanistan in 2001 now stands at 385.