Man jailed for 18 years for 'vicious' York murder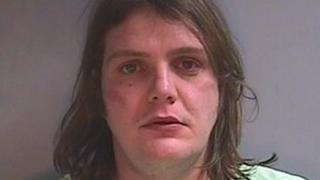 A man has been jailed for a minimum of 18 years for murdering a 40-year-old father of five in an alleyway in York.
Brian Cox, 29, from Bede Avenue, York, slashed Mark Webb's throat on 4 March 2011 after an incident at a property on Stuart Road, Acomb.
Mr Webb, of Cornfields Road, York, bled to death after staggering to his former home in Middleton Road, York.
Det Supt Ray Galloway, from North Yorkshire Police, described the attack on Mr Webb as "vicious and brutal".
Cox was found guilty of Mr Webb's murder at Leeds Crown Court on Tuesday.
The court had earlier heard that Cox had inflicted a 19cm slash wound to Mr Webb's neck, which severed his jugular vein.
'Savage'
Det Supt Galloway said Mr Webb was "just left to die in the street" after the attack.
"Cox is clearly a significant danger to the community," he said.
"He must now face the consequences of this savage attack".
In a statement, Mr Webb's mother, Diane Atkinson, and sister, Julie Twamley, said his life had been "brutally cut short" by Cox's attack.
"We have been robbed of a son, dad, brother, uncle and granddad in the most violent and brutal way imaginable," they said.
"We are now able to mourn the loss of Mark, knowing that the man responsible for his death has now been held accountable."
Mr Webb's estranged wife, Susan Webb, 30, of Middleton Road, York, was also found guilty of two charges of perverting the course of justice.
She was found guilty of making a false statement to the police and of washing blood away from the scene.
She will be sentenced at a later date.