CCTV picture of Harrogate bus swerve man released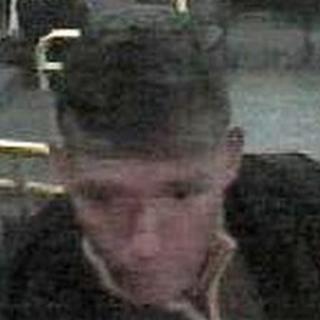 Police in North Yorkshire have released a CCTV picture showing a man who caused a bus to swerve after he grabbed the steering wheel from the female driver.
No-one was injured in the incident, which happened at a roundabout in Starbeck, Harrogate, just before midnight on Friday, 21 October 2011.
The man is described as white, 25-30 years old, about 5ft 9in (1.8m) tall, with short, light brown hair.
Police said it was "vital" the man was found.
He is thought to have been wearing a brown leather-style jacket and dark jeans.
It is believed the man pressed the emergency button to open the doors while the bus was negotiating the roundabout at the junction of Hookstone Chase and Forest Lane in Starbeck.
He then grabbed the steering wheel causing the driver to swerve, before leaving the bus at the next stop.
PC Lynsey Ridout, from Harrogate's Safer Neighbourhood Team, said: "This was an extremely dangerous and unpredictable act which upset the driver and the other passengers on the bus.
"It is vital that this man is located so he can be interviewed by the police."