Unmarked motorcycles reduce biker deaths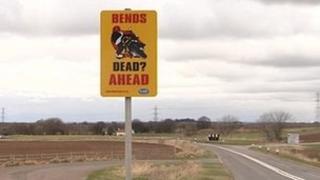 The use of unmarked police motorcycles is being linked to a sharp fall in the number of riders killed in North Yorkshire.
By November this year 10 riders had been killed - half the number who died throughout 2010.
North Yorkshire Police said it used unmarked bikes to gather evidence of "dangerous and anti-social riding".
The Motorcycle Action Group criticised the use of unmarked bikes, saying it was "entrapment".
North Yorkshire is popular with bikers who enjoy the challenge of the largely rural road network, but the number of riders being killed has been steadily rising.
'Sneaky' policing
In 2008, 12 motorcyclists died in the county. That figure rose to 16 in 2009 and to 20 in 2010.
North Yorkshire Police said it had resorted to using the unmarked bikes because of the increasing figures.
PC Ian Atkinson said: "You will always get people who think we are spying, but sometimes we need to do that to save lives."
Motorcycling enthusiasts have labelled the use of unmarked bikes as "sneaky" policing.
Neil Liversidge, director of the Motorcycle Action Group, a national organisation which campaigns for bikers' rights, said: "I view it as an agent provocateur. Every day I see cars exceeding the speed limit that are not subject to the same kind of entrapment."
North Yorkshire Police said it would continue to use the bikes to drive the accident rate down.
Sgt Sean Gray said: "If you are riding safely then you have nothing to fear. It is when you are riding in a dangerous manner, speeding for example, then you have to worry about the unmarked bike coming up behind you."