Tribute to Afghanistan blast soldier Andrew Griffiths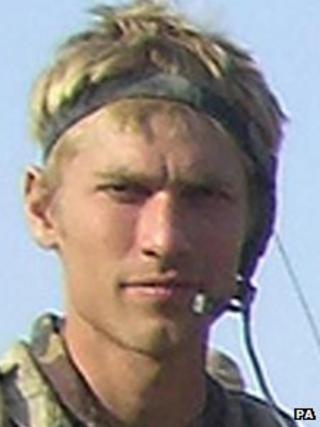 An Army captain killed by a bomb blast in Afghanistan was "professional", "enthusiastic" and "selfless", a colleague has said after his inquest.
Capt Andrew Griffiths, 25, who was born in Richmond, North Yorkshire, was mortally wounded by an improvised explosive device in Helmand province.
A coroner at his inquest recorded a narrative verdict, saying he died serving his country.
An officer who worked alongside Capt Griffiths paid tribute to him.
Capt Griffiths was airlifted back to Britain after suffering severe leg and pelvic injuries in the Nahr-e Saraj district of Helmand province while serving with the 2nd Battalion of the Duke of Lancaster's Regiment on 24 August last year.
The officer was treated by soldiers at the scene of the blast and underwent surgery in Afghanistan, but died of his wounds at the Queen Elizabeth Hospital in Birmingham on 5 September 2010.
Recording a verdict that Capt Griffiths was killed by the enemy while on active service for his country, Birmingham coroner Aidan Cotter praised the skill and bravery of the officer's patrol.
Mr Cotter said medical aid given at the scene had undoubtedly prevented Capt Griffiths from dying where he fell.
Speaking after the inquest, Maj Paul Tingey said he felt privileged to have served with Capt Griffiths, the son of serving Army Brigadier Mike Griffiths, in both Cyprus and in Afghanistan.
He said: "He was a confident man, happy in his own skin, and the way he was with his lads, you could see that he was both popular and respected.
"He was a professional officer, capable and enthusiastic, as every good officer should be. Every decision that he took was a selfless one.
"He cared deeply for the men he commanded - they trusted him implicitly and he trusted them. He didn't demand respect, he earned it."
Maj Tingey, who joined the Army in 1997, added: "He was one of the best young leaders that I have ever had the privilege of working with.
"If he had lived I have no doubt that he would have gone on to a very long and successful military career and I am deeply saddened that I will not get to see this."